Ostinvestor's Suit Against Tsarukyan's Yerevan
(Also see Part 1, Part 2, Part 3, Part 4, Part 5, Part 6, Part 7, Part 8, Part 9)
by Kristine Aghalaryan
Source: Hetq
April 16, 2010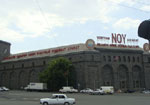 After a long recess, the suit brought by the German firm "Ostinvestor" against the Yerevan Ararat Cognac-Wine-Vodka (YACWV) company, resumed today at the Kentron and Nork-Marash District Court.
"Ostinvestor" legal representative Davit Danielyan petitioned the court for a full expert accounting to specify what the German firm's total owned capital and the value of one share was at the time of the questionable stock consolidation that left the firm with less than one full share of stock.
Readers will remember that the court had obligated YACWV to hand over accounting documents regarding the value of its 50% share in Brandy Bridge. When the company delayed, the plaintiff attempted to obtain the documents on its own, but to no avail. Eventually, YACWV handed over the documents in question when employees of the Compulsory Enforcement Service came knocking on the doors of YACWV.